What is a Festoon, Riviere, Sautoir, or Lavalier necklace? Check out our
illustrated guide to help you identify the different types of necklaces.
1) LAVALIER NECKLACE
A lavalier is a chain type necklace that ends in one large size pendant or tassel.
Sometimes there may be additional smaller pendants dangling from the main stone.
In the 1600's the lavalier got its name from Louise de La Vallière , a mistress of Louis
XIV who often wore them.The lavalier was popular from 1900 to 1930 as the delicacy
of the lavalier was a perfect match to the pastel toned fashion trends of the Edwardian
Era. In the 1930's colours became bolder, with the use of more expensive materials such
as gold and emeralds. The influence of Art Nouveau style imagery could be seen in the
lavaliers which sometimes featured peackocks, viking ships and wistful maidens.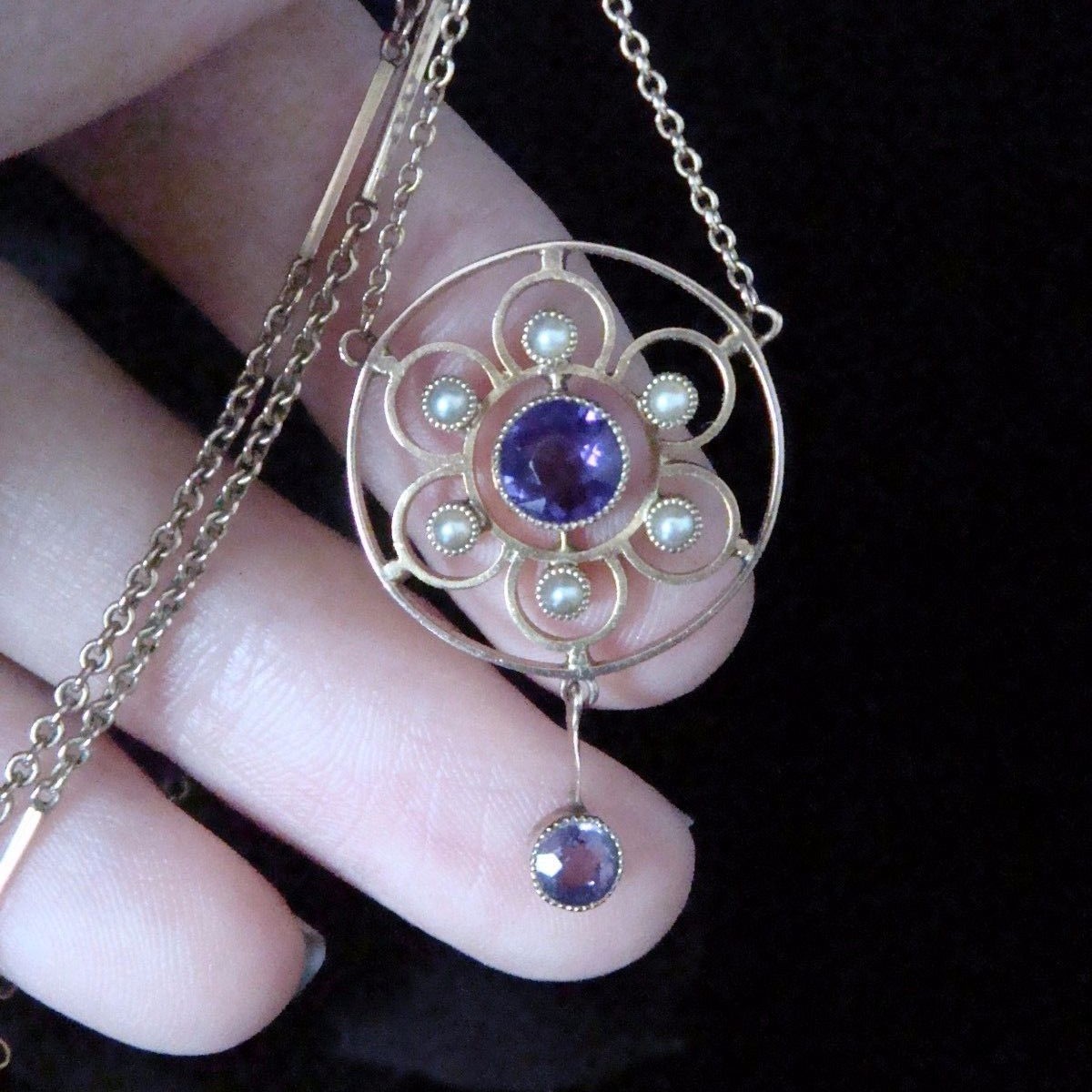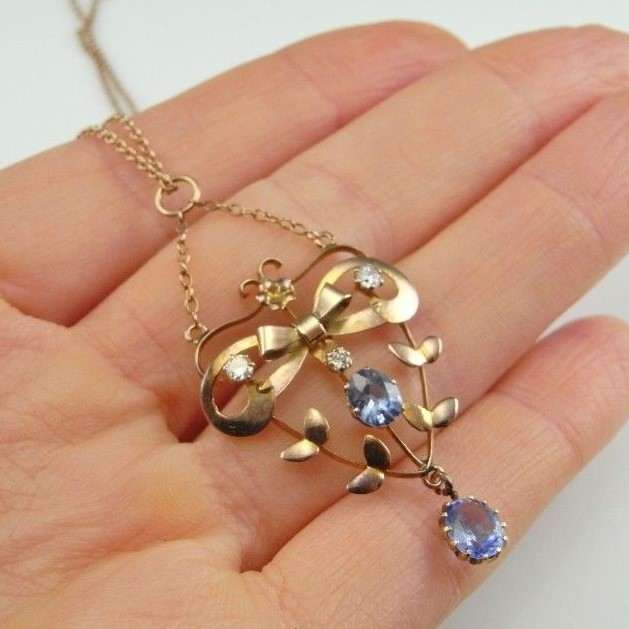 Amethyst and seed pearl Edwardian sapphire and 9 Victorian 14 carat gold and
lavalier carat gold lavalier enamel tassel lavalier

2) FESTOON NECKLACE
A festoon necklace is often wrongly identified but should have swags or drapes of
chain, beads or metal parts forming the design. The definition of festoon is a garland
or wreath hanging from two points. In architecture a festoon relates to a carved ornament
depicting an arrangment of fruit or foliage suspended by ribbons. The "Dagmar Necklace"
originally made for Queen Alexandra of Denmark and bequeathed to Queen Elizabeth
on her accession to the throne in 1952 is a famous festoon vintage necklace.



Amethyst Victorian festoon Amethyst and pearl silver Art Nouveau green Chrysoprase
chain necklace festoon necklace festoon necklace

3) SAUTOIR NECKLACE
A sautoir necklace
is a very long style necklace
usually made of pearls, beads or chains.
It is often finished with tassels hanging from each end or there can be a single removable
pendant which is looped around the neck. Sautoir
in French means "jump rope."
Historically there have been some very impressive sautoirs. The
Queen of Romania's famous
sautoir
created by Cartier in 1919 had a massive 478 carat sapphire drop. Then there was
Van Cleef and Arpels
Heritage platinum sautoir made in 1933
,
which featured 10.06 carats
of diamonds and two grey pearls.



Czech glass red crystal sautoir Chanel green crystal link sautoir
Art Deco
Green crystal sautoir


4) CHOKER NECKLACE
A choker is a short length necklace that is worn closely around the neck. They can be
made of a range of materials, including beads, velvet, leather and metal, such as gold, silver
or platinum. Vintage chokers were often made of pearls , diamante crystals, or glass beads.
Chokers were particularly fashionable from the late 19th century to the 1920's and again in
the 40's as "colliers de chien" or dog collars.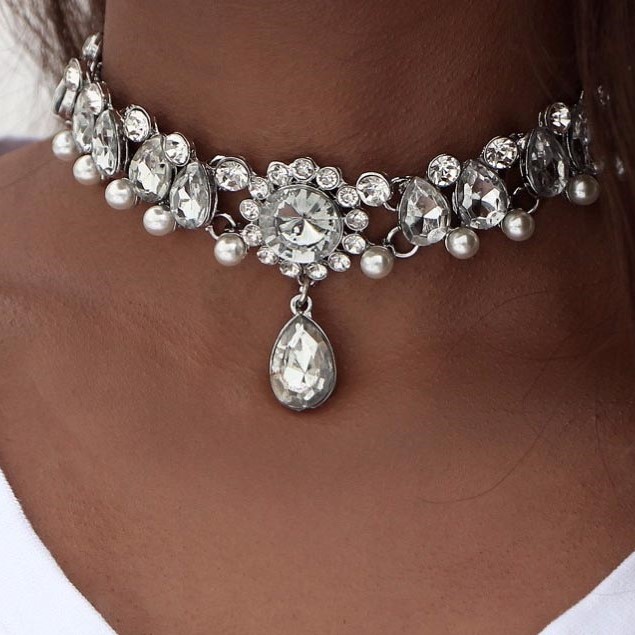 Crystal rhinestone choker Jewelcraft crystal choker Napier goldtone vintage choker

5) RIVIERE NECKLACE
The rivière necklace is a short style necklace (commonly 14 to 16 inches) simply strung
with a line of faceted rhinestones or gemstones often graduating in size. Historically the
gems were set in individual collets and later in prong or claw settings .The name "riviere"
translates to "river" in French, in reference to the way the necklace flows gracefully around
the neck. When the style first developed in the early 18th century, the settings were generally
closed-back. Later versions of the necklace had open back settings to allow the light to
penetrate giving the effect of a shining, continous stream around the neck. Some very ornate
examples have additional gemstones suspended from the main necklace. The riviere necklace
was a vintage jewellery style favoured by the Vogue editor Anna Wintour who often wore several
of these necklaces at the same
time.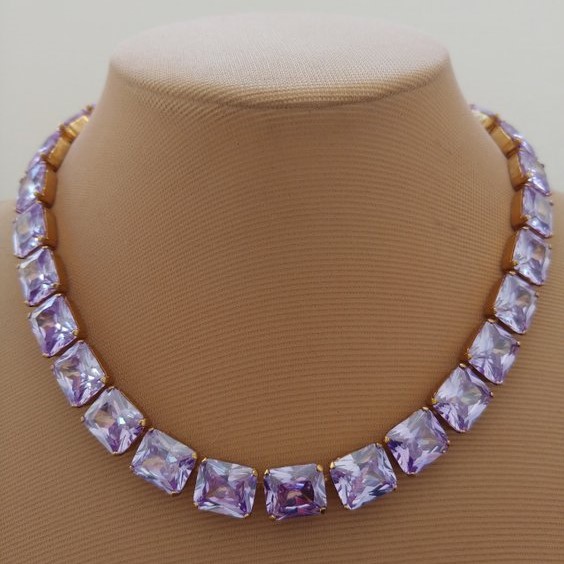 Antique amethyst and gold Fine diamond riviere necklace Violet crystal riviere necklace
riviere necklace

6) BAYADERE NECKLACE
The term Bayadere relates to a style of braided necklace made from strings or strands of
beads (often seed pearls), which were twisted together. They were very popular during the
18th century.Some of these necklaces had a single pendant or tassel .The other name for
this is a "rope" necklace.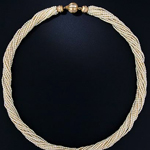 L to R: Three antique seed pearl bayadere necklaces

7) BIB NECKLACE
The bib necklace is constructed with a substantial band that is wider at the front and
tapers towards the back. It is generally made with different rows of beads or gemstones
and it sits quite high up on the neck near the collar bone. Bib necklaces are large
statement pieces and they can be made from a variety of materials including silver, gold,
gemstones, crystals and glass beads. The Duchess of Windsor Wallace Simpson
commissioned a beautiful amethyst bib necklace from Cartier in 1947.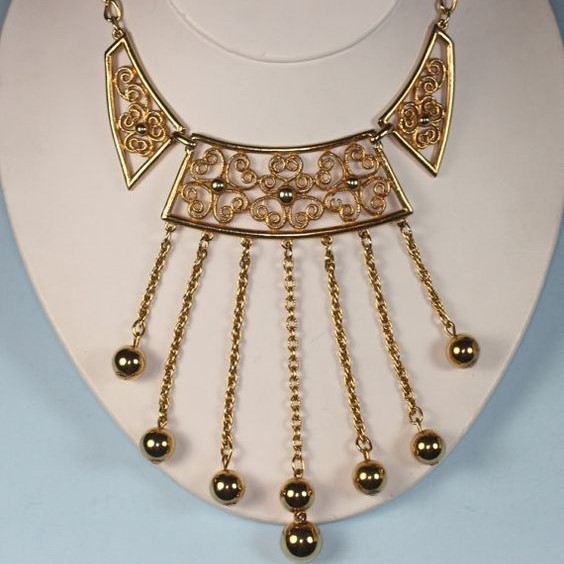 Green rhinestone crystal Egyptian revival bib necklace Vintage crystal and pearl bib
vintage bib necklace necklace

8) TORSADE NECKLACE
A torsade necklace consists of several twisted strands of pearls or beads held
together with a clasp. It is a term commonly used in relation to pearl necklaces.
They are sometimes referred to as twisters.
The word "torsade" means "cable" or
"twist" in French. It is an old style of necklace - examples of the torsade have been found in
Ancient Egypt . These days the term is often associated with short, thick multi-strand
necklaces .A torsade can also refer to a bracelet compose of multiple strands of beads
or pearls.
The torsade is similar to a bayeder necklace however the bayadere has
less
strands than the torsade.



Turquoise malachite Cultured pearl torsade necklace Blue glass bead torsade
torsade necklace
9) FLAPPER NECKLACE
Flapper necklaces
are one of the most iconic necklace styles of the 1920's and
were popular from the 1920- 1940's.They were essentialy long pearl or bead necklaces
which could be sautoirs, lariats, or multi strand necklaces amongst others. Flapper
necklaces were generally over 50, 60, or even 80 inches long and tied in a knot.
Long pearls were fashionable in the early twenties with designs getting shorter as the decade
progressed. Chanel was a great promoter of pearl necklaces, including fake ones. The
affordability and quality of cultured "fake" peals during the 1920's made them accessible
to all women.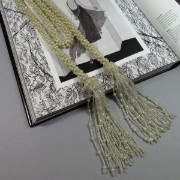 L to R: Flapper necklaces - french black jet , amber beads, and seed pearl tassel necklace
10) NEGLIGEE NECKLACE
The negligee necklace is a twist on the lavalier. It comprise a chain type
necklace with a pair of asymmetrical pendants dangling from unequal lengths
of fine chain, which are often connected to a thin bar. The pendants could be
gemstones such as rubies, diamonds or sapphires , a combination of two different
stones, or sometimes pearls.The negligee necklace was popular during the Edwardian era.



Edwardian pearl and diamond Antique rose quartz and Blue topaz, pearl and 9 carat
negligee necklace moonstone negligee necklace gold negligee necklace

11) COLLAR or "COLLIER" NECKLACE

A collar necklace is a necklace that lies flat to the body rather than a more free style
hanging necklace.They are usually short lengths of around 14 inches. They can be
costume jewelley or fine jewellery. Materials can range from solid gold collars
set with gemstones to rhinestone statement collars that are several inches wide.
The name "collier" the French word for collar is also used for this necklace type.
Half collar necklaces are a variation of the collar without completely encircling the
neck.



Chunky gold tone collar Vintage Modernist flat gold Mexican silver and tigers
necklace tone collar necklace eye half collar necklace

12) LARIAT NECKLACE

A lariat necklace forms a loop secured with a knot that allows it to slide
without coming apart. It has no specific clasp and can be worn in different
styles. The ends can simply be tied together or it could be wrapped around
the neck and then tied. They can be thin and elegant or chunky and
statement like. In some cases lariat necklaces have a sliding clasp so they
can be worn in a mannner similar to a bolo tie. They are long necklaces and
generally require to be at least 30 inches to allow them to be tied or wrapped.



Miriam Haskell baroque pearl 1950's red glass bead lariat Art Deco crystal lariat necklace
gilt chain lariat necklace

13) BOOK CHAIN

This is a metal chain with links of rectangular folded metal with each link looking
a bit like a book. Victorian-era book chain jewellery is made of engraved
rectangular links that look like very small books. Large lockets were sometimes
included for a more elaborate touch. Any chain that has flat rectangular links
can be considered a book chain necklace and they are often used as part of
fringe type necklaces. These necklaces were in fashion during the Victorian era
and into the early twentieth century.



Brass book chain necklace Victorian silver etched book Victorian garnet gold filled
with Bakelite beads 1930's chain necklace with locket 1893 book chain necklace

14) GRADUATED BEAD

With this type of necklace the size of the beads get larger as they approach
the front part of the necklace. Sometimes there are small beads or spacers
in between the main beads. The graduated bead necklace is all about the
change from small beads to larger beads - the beads themselves are all the
same style.



Turquoise graduated bead 1930'S Austrian black glass Green glass graduated beads
necklace bead necklace


15) FRINGED NECKLACE

A fringed necklace is made of a main round chain with a type of fringe
around the front. This can be all one length or it can be a graduated fringe.
The last row of beads used to make the necklace is always free flowing.
The attachment occurs at the top part of the necklace. Historically the fringe
necklace is a very old style and has tribal roots.



Hobe vintage Bakelite fringe Czech Art Glass choker Vintage Coro glass bead
necklace fringe necklace fringe necklace

16) TRIPLE STRAND

This necklace comprises 3 strands of beads. These beads can be anything
from crystals to pearls, plastic or stone. The only requirement is that it must
be three strands. These necklaces were particularly popular in the 1950's
when triple strand pearl necklaces were in fashion.



Triple strand pearl necklace Green bead triple strand 1950's aurora borealis bead
necklace triple strand necklace


16) PENDANT NECKLACE

The name pendant comes from the French word pendre, which means "to hang."
When an ornament is allowed to hang freely from a necklace it becomes a pendant.
Early types of pendants were used as talismen to protect the wearer from harm,
and most ancient and modern cultures have a version of this type of necklace.
Religious symbols were often incorporated into pendants. Pendants can be made
of different types of materials including chain, leather, ribbon and cord. The pendant
itself can be made from any material including metals, glass, and gemstones.They can
be any size from delicate and tiny to large statement pendants.



Antique art deco pendant Art Nouveau turquoise and Vintage Trifari gold tone
pearl pendant pendant