Check out our illustrated guide to help you identify the different
types of vintage and antique bracelets..
Bracelets have been worn throughout the ages to draw attention to the beauty of the
wrist and hands. Women throughout history have worn decorative bracelets
from Cleopatra to Marilyn Monroe to Michelle Obama. The history of the bracelet dates
back to the Ancient Egyptians in 5000 B.C, although a bracelet found by archaeologists in
Turkey in 1995 was dated to about 7500BC!. Researchers were astounded at the detail
and craftmanship found in the 9500 year old bracelet.
The word bracelet comes from the Greek "brachile" which means "of the arm."
Bracelets have been made from a wide variety of materials over the years, such as
leather, cloth, plastic, and metal amongst others. They are typically adorned with jewels,
rocks, shells, metal, crystals or pearls, to name just a few. Bracelets come in many
different styles. Our guide below covers all you need to know about the different types of
vintage and antique bracelets.

1) CUFF BRACELET
A cuff bracelet is usually a rigid wide bracelet that does not close together but just
rests on the wrist with a gap on the inner side of the wrist. Cuff bracelets are
generally worn low down on the wrist rather than further up the arm. In the early
19th century Zuni and Navajo silversmiths made cuffs for tourists who were travelling
westwards from Chicago to Los Angeles on the Atchison, Topeka & Santa Fe Railroad.
with the train making several stops in the South West USA. The cuffs were dominated
by large pieces of turquoise while others incorporated small stones as highlights or in
grid formation. The William Spratling company in Taxco, Mexico, were silversmiths who
also designed cuffs. Early cuffs from the 1930s and '1940s were often set with amethysts
while later vintage cuffs from Taxco made in the 1950s and '60s included common stones
such as obsidian and quartz. Postwar modernist jewellers from New York such
as Frank Rebajes and Paul Lobel favoured cuff bracelets because they offered good wide
surface areas for their designs. The same motivation probably applied to Scandinavian
jewellery designers from Jacob Hull to Georg Jensen . Cuff bracelets were also in fashion with
contemporary Americans designers like David Yurman and acclaimed jewelers such
as Tiffany and Van Cleef and Arpels, whose gold cuffs were worn by Jacqueline Kennedy Onassis.

Victorian sterling silver Georg Jensen Harald Nielsen Vintage Mexico Taxco silver
cuff bracelet sterling silver cuff bracelet cuff bracelet

2) CHARM BRACELET
To put it simply a charm bracelet is a delicate item of jewellery for the wrist decorated
with small 'charms' or trinkets. It is unknown exactly when this tradition began, however,
it has been established that small twine bracelets decorated with shells found in the
African Continent ,are over 75,000 years old. In Europe bracelets dating from 30,000 years
ago,at the height of the last ice age, have been found with small charms carved out of ivory
from mammoths. People may have won these charm bracelets for aesthetic or emotional
reasons much like today. Or it may have been as symbol of allegiance or faith. Some charm
bracelets may also been worn as magic charms to either bring luck or ward of evil spirits.
The tradition of modern charm bracelets, with a chain-link bracelet made from while gold or
silver is Victorian in origin. Queen Victoria owned various charm bracelets. This fuelling
a trend among the middle and upper classes of America and Europe During the late 19th
and early part of the 20th century, charm bracelets also became fashionable among all areas
of society. During world war 1 and 2 , some soldiers sent back charms and trinkets to their
mothers, wives and daughters from countries where they were stationed as mementos. From
the 1950s onwards, Hollywood actresses started wearing charm bracelets on screen. This
began a booming popularity trend that continues to this day.

Victorian silver charm bracelet 9 carat gold arts and crafts 9 carat gold vintage charm bracelet
charm bracelet
3) BOOK CHAIN BRACELETS
This is a metal chain bracelet with links of rectangular folded metal. Each link
resembles a little book.
This type of jewellery emerged during the Victorian Era
where the book chain bracelets were often engraved, and continued into the
Edwardian Era.
It was particularly popular during the
Victorian Jewellery
Revival which
occurred in the latter part of the
Art Deco
period in the 1930's and 1940's.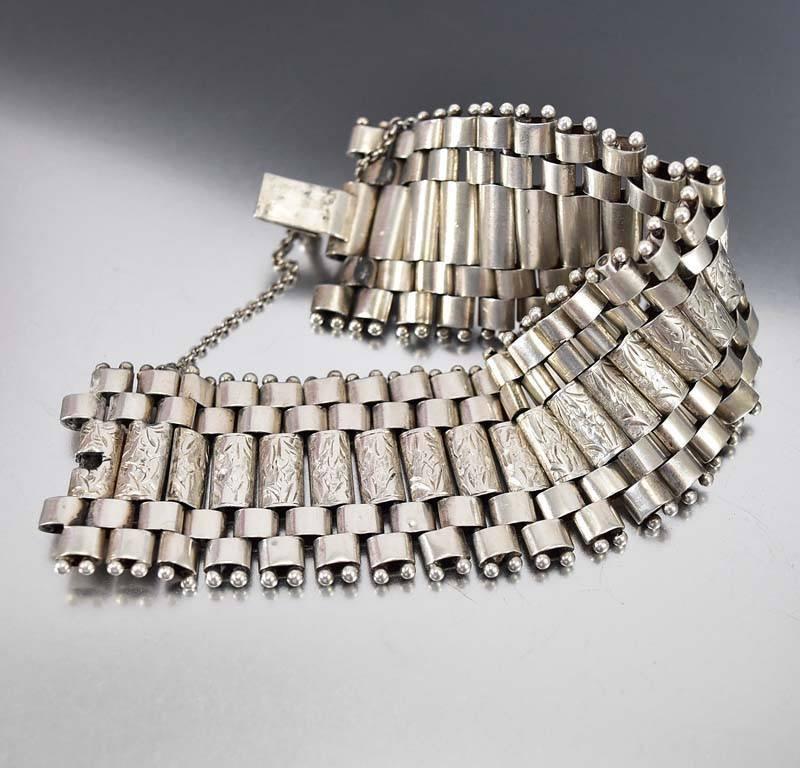 Blood stone cameo book chain Victorian brass book chain bracelet Victorian silver book chain bracelet
bracelet


4) GATE BRACELETS
Gate bracelets became popular during the Victorian era, although their exact
origins are hard to establish. The term 'gate' bracelet refers to the unusual chain style
of interlocking barred panels. These panels are said to resemble the gates and
fences of English castles and country estates . The style of chain of the gate bracelet
is similar to both belcher link and fetter link chains. The main distinguishing feature
of a gate bracelet is the large sized heart shaped charm. The charm has a lock and key
which is the closure of the bracelet. It is a perfect representation of Victorian ideas about
chastity and romanticism. They were usually made out of 9, 10, or 14 carat gold. Silver
was not particularly fashionable during the Victorian Era and platinum had not yet been created.

Victorian turquoise and seed 9 carat rose gold gate bracelet Sapphire and seed pearl gate bracelet
pearl gate bracelet

5) CLAMPER BRACELET
This type of bracelet is fixed around the wrist
by a spring type clasp. The origin
of this type of bracelet dates back to the 1940s. Vintage clamper bracelets
were made from a wide selection of materials including diamonds, silver, gold, metal,
rhinestones, or plastic. They were often part of a set including earrings and or a brooch.
In the 1960's neon plastic clamper bracelets were very fashionable. Clamper
bracelets remain popular today with collectors and those that come with
matching brooches or earrings are most sought after.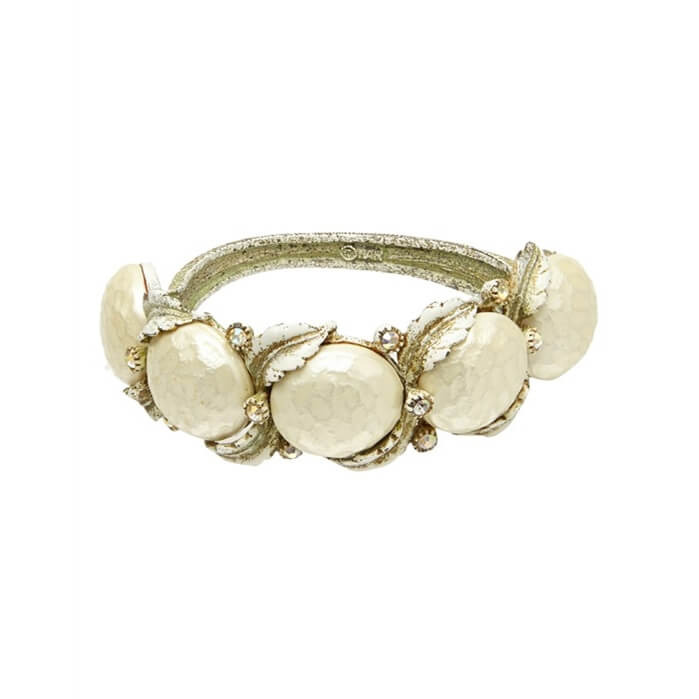 Rare Ciner crystal panther bracelet 1940's laurel wreath clamper 1950's crystal costume jewellery
bracelet clamper bracelet
6) TORSADE BRACELET
A torsade bracelet comprises several strands of beads or pearls held
together with a clasp.
The name "torsade" means "twist" or
"cable" in French.
It is an old style of bracelet - examples of the torsade bracelet have been found in
Ancient Egypt .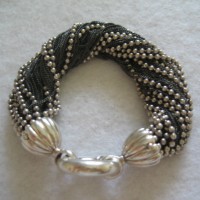 Ciner faux ruby and pearl torsade Tiffany and Co sterling silver ball Rhinestone and bead torsade bracelet
bracelet and chain torsade bracelet

7) CHAIN LINK BRACELET
The chain link bracelet is exactly as it sounds. A bracelet made from
chain. The chains can be a multitude of different metal chain types and
they can be chunky and strong or thin and delicate.



Napier vintage chain link bracelet Yellow gold wide chain link Hermes silver chain link bracelet
bracelet

8) LINE OR TENNIS BRACELET
The line bracelet refers to a slim, flexible type of bracelet comprising a series
of rectangular or square links which are set in a single line. The stones are either
identical stones or combinations of different types of stones. This type of bracelet was
developed in the first part of the twentieth century . It became very popular in the
1920's as the style reflected the regular patterns and geometric design ethos of the Art Deco
period. They were often worn with flapper dresses. The line bracelet had a revival in the 1980's
when set with diamonds it became known as the
tennis bracelet
.
Line bracelets can be costume
jewellery where they are gold and silver plated and set with glass or crystal stones,or they can be fine
jewellery where beautiful gemstone are set in gold or sterling silver settings

Art Deco emerald line bracelet 1920's aquamarine silver line Vintage diamond tennis bracelet
bracelet
9) SLIDE BRACELETS
A slide is a type of open style clasp through which a ribbon or chain can be passed. The
front part of the slide is often very detailed while the rear has one or two bars somewhat
like a buckle. The term 'slide bracelet' generally refers to a bracelet comprising many
individual slides set on a chain in rows of one or two.The slides are often separated by little
balls. This type of bracelet dates back to the Victorian era. Victorian slides were engraved
or bejewelled pieces, minature portraits, or tiny watch faces that had been made out of heads
removed from stick pins or from watch fobs. The slide bracelet had a revival in the 1940's and
50's. This type is usually chunky and large generally using imitations of antique slides rather
than recycled fobs as noted in older versions.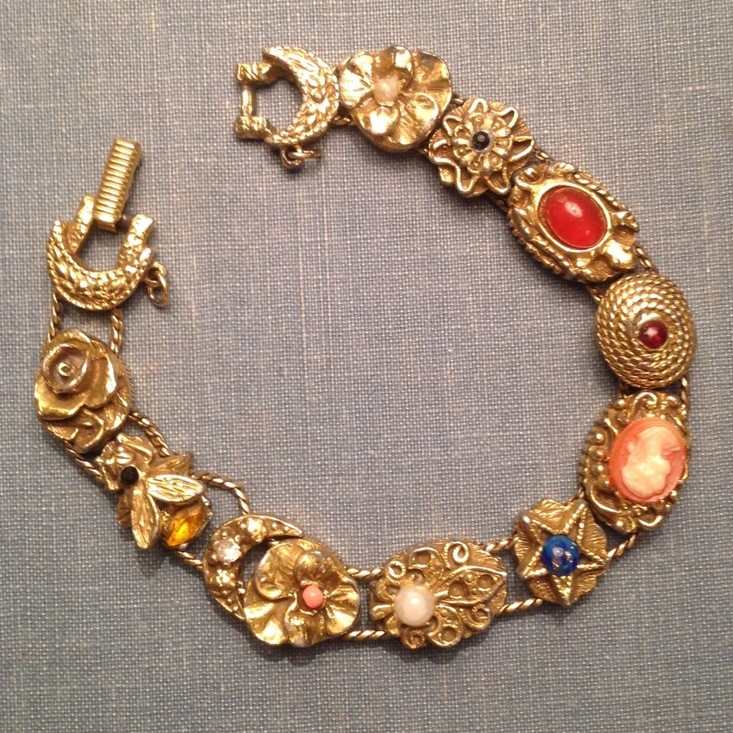 Victorian slide bracelet with cameos Antique slide bracelet Vintage gemstone slide bracelet
and gems

10) BANGLE
Bangle bracelets are very popular fashion jewellery today , however they actually date back
to more ancient times. They can be made of any material that can be carved forged or
moulded such as gold, silver, wood, copper, leather, or beads. Traditional bangles slip
over the wrist however there is also the version with a clasp or hinge known as hinged
bangles. They can be chunky or narrow, in style, and worn as single bangles or in multiples.
The bangle is a relatively versatile and inexpensive item and has enjoyed continous
popularity throughout the years.



Victorian seed pearl and turquoise Edwardian rose gold hinged bangle 1960's studded turquoise bangle
bangle
11) PEARL BRACELETS
Pearl jewellery including bracelets have been popular since ancient times.
Baroque pearls were very popular in the Baroque and later Renaissance period.
Natural pearls and glass pearls were a feature of costume jewellery necklaces and bracelets
in the mid 20th century by designers such as Miriam Haskell and Coco Chanel .Pear bracelets
are always in demand by those who like traditional jewellery settings. Antique pearls can
often dry out over time meaning they appear less lustrous than new cultures pearls. Cultured
pearls
come in various shapes and colours from white through to the silver and pinks of
cultured south sea pearls.




L to R: Two vintage pearl bracelets and an antique turquoise and seed pearl bracelet

12) WRAP BRACELETS
Wrap bracelets have tribal originals but were made popular
by jewellery designer Chan Luu.They have simple designs
comprising strands of beads or leather wrapped around the wrist.
Sometimes the leather is studded with stones or beads.


L to R: Greek leather wrap bracelet and two Chan Luu beaded wrap bracelets
For further information on vintage jewellery check out our blog article '
The Complete Guide to Vintage
and Antique Necklaces
'