Hans Hansen - Denmark
Hans Hansen (1884-1940),was
the founder of the Hans Hansen firm which
became known for superb Scandinavian modernist
jewellery design. He was born in 1884, and started his
workshop in 1906 on the Jutland Peninsula
in Denmark. He made mostly holloware until
he was succesful enough to take a chance with
starting a line of jewellery.

Karl Gustav - Jewellery Design

In 1932 he asked his son Karl Gustav (1914 - 2002 ) who was an apprenctice in
his workshop to design a line for him called "Future". Karl designed a range of 50 pins,
earrings, and rings, which were unlike anything designed in Denmark at that time.
It was given the slightly derogatory term "Funkis" (for Funky functionalism)
however it sold sucessfully well into the Forties. The "HaH" mark was used in
these years often accompanied by the script Hans Hansen mark.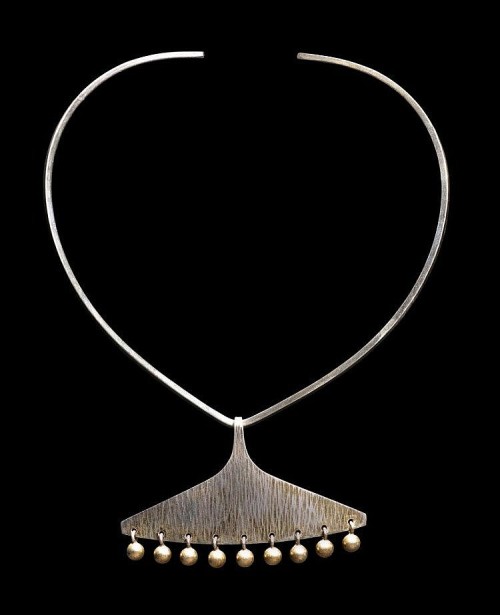 L to Right - Examples of Karl Gustav necklaces and the Hans Hansen script signature

Karl studied in and travelled throughout Italy in 1939, before returning home
to lead the Hans Hansen workshop in 1940. From the fifties he mostly concentrated
on holloware production. The jewellery design was left in the hands of Bent Gabrielsen
Pedersen who was the artistic director from 1962.




Hansen had exhibitions of work at the 1937 International Expo in Paris, and at the
World Fair in New York in 1939.The firm also exhibited at the Nordisk Handcraft Exhibit
in Paris in 1958 and 1965, and also in London in 1958 at the Danish Design Show at the Victoria
and Albert Museum. His work is represented in the major museums in New York and Europe.
The Hans Hansen firm was taked over in 1991 by Royal Copenhagen who also acquired Georg Jensen.