What is Suffragette Jewellery?
As the 19th century drew to an end, women began actively looking for better rights, in particular to have their voices heard in government,and The Suffragettes were a group of women campaigning and protesting for the right to vote . This was born out of the Suffragist Movement which started in the 1860s.
Many women proudly wore jewellery expressing their support for the suffragette movement, which campaigned for votes for women and womens rights. Suffragette jewellery pieces were instantly recognisable because they were decorated with green, white, and violet/purple stones. The first letter of each colour, G, W, V refelected the suffragettes demand of "Give women the vote"

One interpretation of the suffragette jewellery colour scheme as adopted by some of the high profile groups was that the colour purple symbolised dignity, green meant hope and white demonstrated purity. Some historians feel however that the colours used were merely in accordance with most popular gemstones in the Edwardian period- amethysts, emeralds, and pearls and that there was never one specific colour scheme since the suffragette movement had so many different groups across the western world.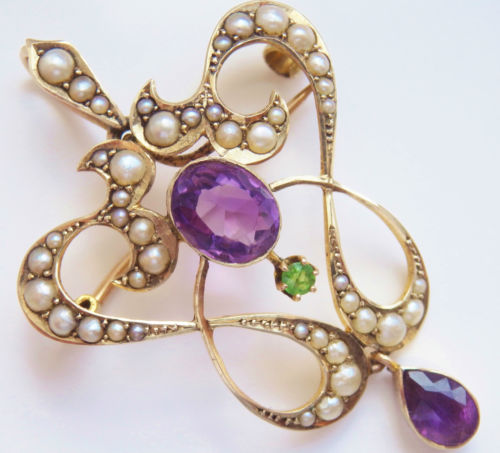 Edwardian 9 carat pearl, peridot and Pearl and amethyst pendant Suffragette vintage brooch
gold suffragette antique pendant

Suffragette jewellery is a strongly contested topic,and the experts view is that true suffragette jewellery is rare. Suffragette jewellery as a very loose definition of the term is still widely available. However, the distinction between an item of jewellery that has significant true provenance and belonged to a member of one of the many women's rights groups fighting the Suffragette's cause, and an item which just pays tribute to the movement by using the traditional green, white and purple colour scheme are two very different types of antique. The difference in price bewteen these types of suffragette jewellery reflects reflect the abundance of the latter and the scarcity of the former.

Holloway Brooch
One of the most authentic pieces of suffragette jewellery is a "Holloway brooch, " This was designed by Emily Pankhurst's daughter Sylvia and featured the portcullis symbol of the House of Commons, hanging chains, and the convict symbol - a broad arrow. These were all meant to honor the suffragists who served sentences in Holloway prison. These pins are rare and arguably the one of the most authentic examples of what is termed suffrage jewellery.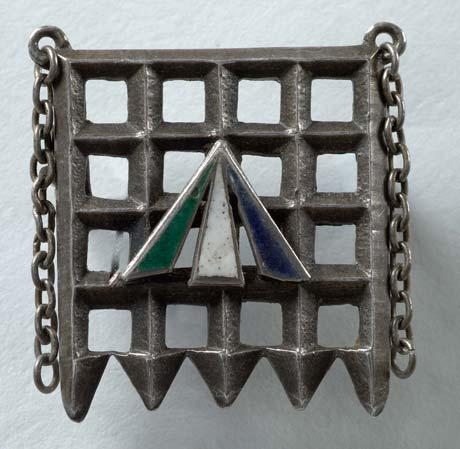 Holloway Brooch

Museum of London - Suffragette Exhibits
The Museum of London has a exhaustive collection of vintage and antique jewellery relating to the suffagette movement. The exhibits include Holloway brooches, lapel badges, ribon rosettes, sashes, and even a white and purple motoring scarf that reads "Votes for Women" . Also exhibited are a pair of black silk stockings hand-embroidered with the VFW logo and featuring the flags of the Women's Social and Political Union.
For further examples click here