EARLY LIFE
Georg Jensen was born in Raadvad, Denmark in 1866. The town comprised a small
cluster of houses situated in lovely countryside around a knife factory north of Copenhagen,
His father worked as a grinder at the factory and his mother was a housemaid. Jensen
worked alongside his father at the factory from an early age. He did not have much
schooling. His family recognised his talent for making things and encouraged his work.
When Georg was 14 the family moved to Copenhagen so that he could train as
an apprentice goldsmith. This involved long hours and hard work. Any spare time was
spent modelling with clay, as he had aspirations to become a sculptor.

He gained a place at the Copenhagen Royal Academy of Art. He graduated from the
Academy in 1891 at the age of 25. Although Jensen never found success as a sculptor,
the training he undertook very much influenced his future work as as silversmith.
Jensen married Marie Christiane Antonette Wulf in 1891 and they had two children
Vidar and Jorgen. He could not make a living as sculptor, and started collaborating
with his friend the painter Christian Joachim Petersen in a small pottery production firm.
In 1897 Antonette passed away unexpectedly from kidney disease and Jensen was left
with his two small boys.
1900 WORLD EXHIBITION IN PARIS
Johan Rhode, a painter, sculptor and architect had founded an alternative art exhibition
(The Free Exhibition) and offered Jensen the chance to show one of his pieces. Although
the pottery business was not doing well financially, Jensen and Pedersen did have one
piece accepted for an exhibition at the 1900 World Exhibition in Paris. It was called
"The Maid on the Jar" . This was an earthenware jug with a small female figure perched
on the rim. Other pieces by Jensen and Pedersen were shown independently and sales
were good. They received an honorable mention for their combined work in ceramics and
Jensen was awarded a travel grant of 2500 kroner.
EUROPEAN TRAVEL
The travel grant gave him a great opportunity to visit the leading art centers in Europe and
in 1899 he embarked on a two year tour. In Paris the Art Nouveau movement was in full flow.
In Italy and France he met artists who were being recognised for their accomplishments in the
field of applied arts. They were earning a living from their work creating objects that were both
beautiful and useful.

The experiences gained from his travels perhaps led Jensen to believe that he too could channel
his artistic skills into applied art, bridging the gap that existed between decorative art and fine
art. Utilitarian everyday objects could be designed and valued for their artistic quality. When he
returned to Denmark in 1901 he was filled with renewed purpose.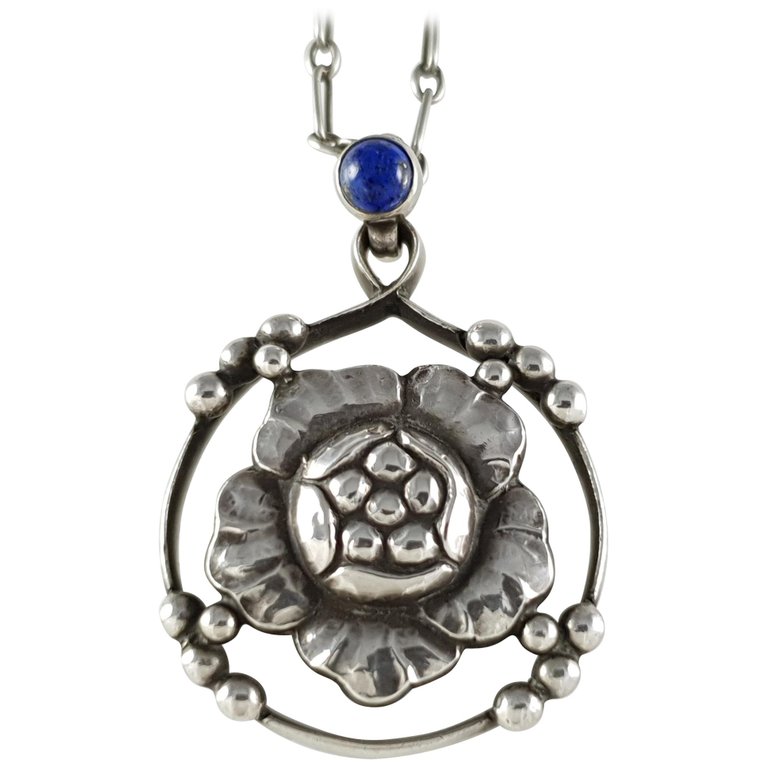 Early Jensen bird eating berries Early Jensen green stone Early Jensen floral
brooch design circa 1908 pendant lapis pendant
WORKING AT MOGENS BALLIN WORKSHOP
Sales at the pottery business with Pedersen remained fairly modest and Jensen was forced to
take a job with Mogens Ballin the Danish silversmith who was a follower of the Art Nouveau style.
Within a short period of time Jensen was appointed foreman of the shop. During his time there he
was encouraged to develop his own designs. Ballin even allowed artists who worked for him to
exhibit work under their own names, this was not common at the time. While working at Ballin's
workshop Jensen created a silverbelt buckle which depicted Adam and Eve in the Garden of
Eden. This is believed to be one of his earliest pieces of jewellery. Jensen received recognition
and acclaim for the buckle. Emil Hannover who was the director of the Museum of Decorative
Art in Copenhagen became a great admirer of Jensen's work. The buckle is in the museum's
collection.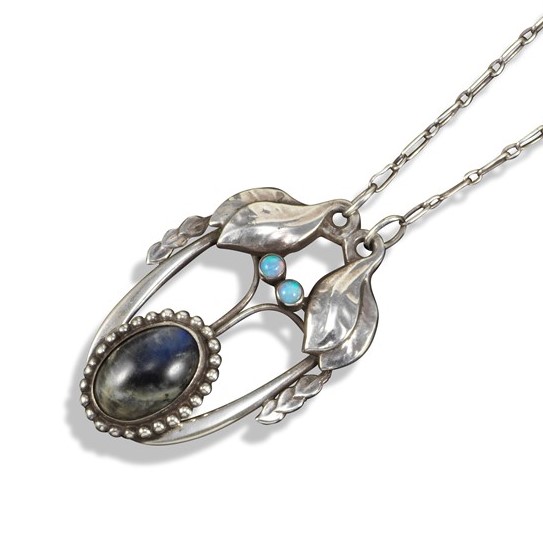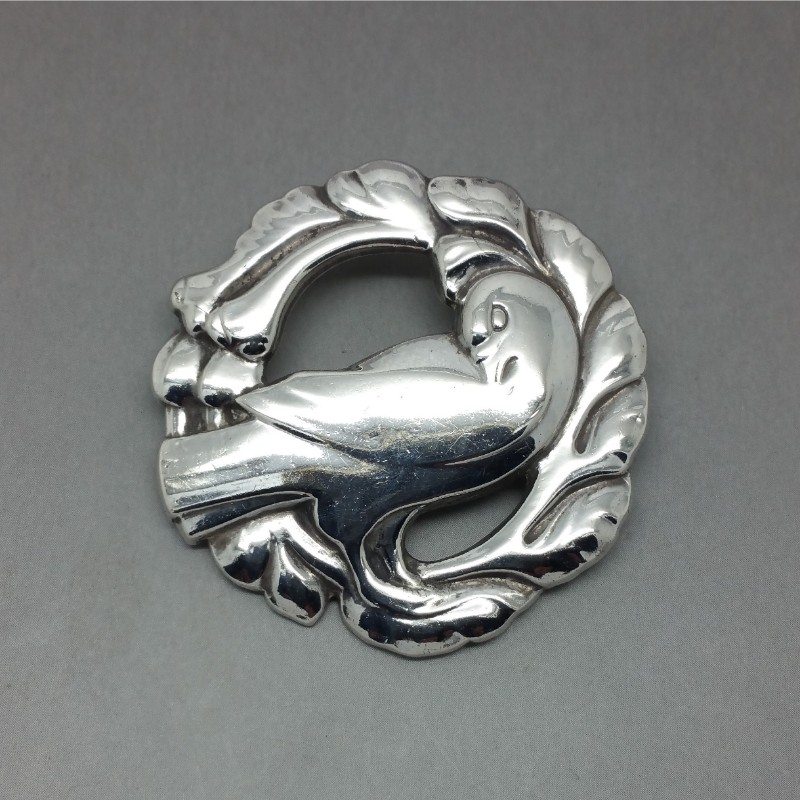 Jensen Adam and Eve buckle Early Jensen pendant no 4. Jensen silver dove brooch
GEORG JENSEN OPENS HIS OWN WORKSHOP
Following the positive reaction to his work, Jensen decided to leave the Ballin workshop to set up
his own workshop. On April 19 1904 (with some financial assistance from a private businessman).
Jensen opened a small workshop at 36 Bredgade In Copenhagen. He produced jewellery and
subsequently hollowware and flatware. The workshop was a retail shop in addition to a place where
Jensen displayed his work. in a portable case that was mounted on the wall outside the shop each
day and taken in at the close of business. When items from the case were sold they were replaced
with others. Lettering on the shops front doors simply stated "Georg Jensen Sculptor, Silversmith"
Although opening the workshop was the start of new path for Jensen he was still no stranger to the
world of fine and applied art. He had spent many years developing his skill as a sculptor and ceramist,
and almost 20 years as a silversmith when he started the workshop at the age of 38.

The staff at the workshop included the apprentice Henry Pilstrup who was 14 when he started with Jensen.
He remained with the firm until his retirement in 1957, long after Jensen had died. Jensen encouraged
his workers and allowed them artistic freedom.



Jensen labradorite and silver Jensen early silver foliate bracelet Henry Pilstrup Georg Jensen
brooch design no 3 moonstone brooch design 159
TYPES OF JEWELLERY PRODUCED
In 1904 Jensen exhibited his work at an exhibition at the Danish Museum of Decorative Art.
The items displayed including his jewellery were highly praised, which greatly helped the reputation
of his workshop. In the early years of the workshop jewellery represented most of the production. It
could be sold quickly and easily stored in the workshop.He produced exquisite jewellery including,
necklaces, bracelets, rings, brooches, buckles, hatpins. The rapid sales showed the appeal of his
designs to Danish women. The art critics also quickly recognised the beauty and quality of his work.



Jensen early silver buckle Jensen hair comb Jensen early silver
with birds motif pink stone pendant

iN 1907 Emil Hannover bought two pieces of Georg Jensen jewellery for the museum's collection.
These were a pendant decorated with silver grapes and a large silver and amber brooch with a
leaf motif. Both items were pictured in the Museum's annual report bringing Jensen honour and
public attention.

DESIGN INFLUENCES
Jensen produced a wide variety of jewellery designs from his workshop. They showed a mature and
masterful style that was unmistakeably his own. In terms of influences his early work may have taken
note of the English jeweller Charles Ashbee when his work was exhibited at the Danish Museum of
Decorative Art in 1899. The French jeweller Rene Lalique also appears to have inspired Jensen. In
1903 Jensen produced a silver dragonfly belt clasp featuring a highly realistic dragonfly in a floral
setting adorned with opals which was highly evocative of Lalique's style. In 1904 his artistic expression
appears to have evolved into a specific style.Although it continued to subtly evolve over the course of his
life there are a number of characteristic features which typically appear.
JEWELLERY CHARACTERISTICS
His interpretation of the Art Nouveau Movement is shown through his sweeping and winding vines
and leaves , different from the "whip lash" line favoured by French artists. Graceful fruit like forms
often appeared .

These were imbued with his sculptural technique and silversmiths great attention to detail. His leaves,
flowers, vines, seed pods, acorns, grape clusters and berries did not depict actual fruit or flowers, but
his precise artistry left the impression that they could represent real plants. Another feature of Jensen's
jewellery is the highly sculptural quality of the pieces. Certain motifs also featured in his work.The "Jensen
bird" is seen in different forms of his jewellery , including necklaces, brooches, earrings and bracelets.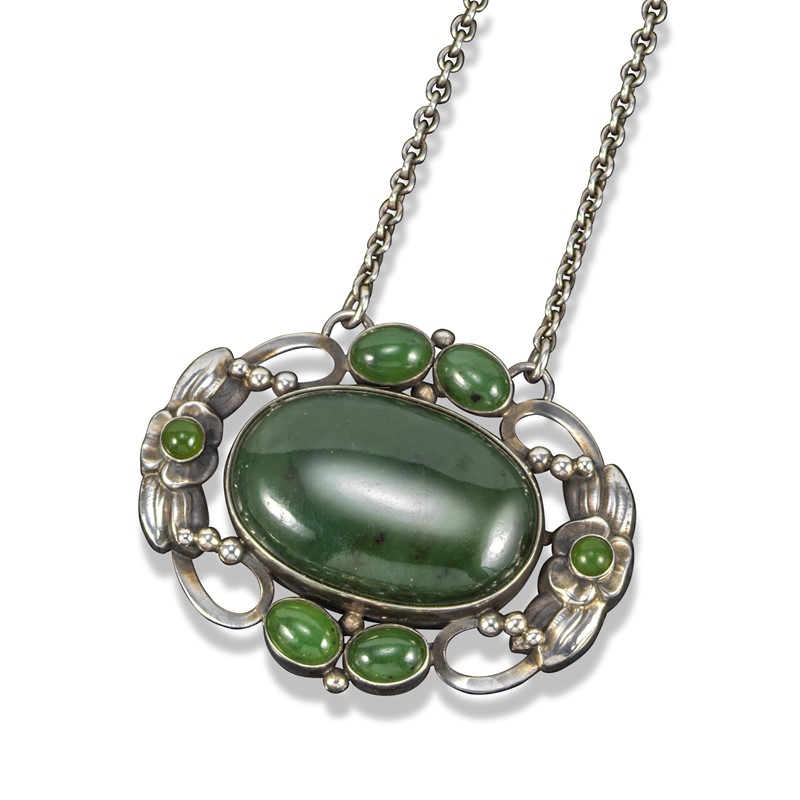 Georg Jensen green agate Jensen hematite and Jensen pendant 78b
bracelet 1904-08 silver brooch 132 nephrite and silver
MATERIALS USED
Jensen used a variety of stones, some transparent and some opaque to create a varied colour
palette in his work. The stones most frequently used were carnelian, onyx, moonstone, opal,
coral and labradorite. These were not the most costly or precious of stones but the mounting
of these stones was done with superb craftsmanship. The combination of stones gave vastly
different effects. Opal used with moonstone enhanced the light effect achieved by the hammered
surface. Sapphire was sometimes used with moonstone which emphasised the blue of the moonstone.
Jensen used cabochon cut stones for a rounded and smooth effect which intensified their colours.
In addition to the coloured stones he used silver beads in different sizes which were round or oval
in shape. Both the stones and the silver beads were bezel set , sometime surrounded by silver
leaves or elegant beading. The arrangement of stones and beads were always in perfect harmony.



Georg Jensen lapis and silver Jensen opal and floral Georg Jensen earrings collection
anniversary pendant no 1 pendant design no 5

Jensen produced a large amount of jewellery. Items that are common today are necklaces, brooches,
pendants, rings and earrings. More scarce items are belt buckles, hat pins. hair combs, buttons,
cape and dress clips, pocketbook frames, stick pins and watch fobs.
GEORG JENSEN DESIGNERS

JOHAN ROHDE
Johan Rohde was a painter, designer , graphic artist and critic. He studied drawing and painting
and by the latter part of the 1880's he was already an important artist having had work exhibited
in both Germany and Denmark. He worked to challenge the typical ways of teaching at the Royal
Academy of Fine Art in Denmark, and was one of the main creators of the Free Exhibition. He
travelled a lot and was influenced by artists such as Van Gogh, Cezanne, and Gauguin. He wished
to apply his artistic skills to the design of everyday objects and he designed silverware, hollowware,
and furniture for his own home. He first met Georg Jensen when he commissioned him to produce
one of his hollowware pieces. A successful collaboration ensued and they continued to work together,
with Rhode designing hollowware for the Jensen firm. His most well known pattern was the Acorn.
Jensen and Rhode were the two main designers in the early years of the Jensen silver smithy.
In the large part he designed flatware and hollowware. The few pieces of jewellery Rhode designed
included cufflinks no 60B and tiebar 77. Both were classical in style with a simple design.
HARALD NEILSEN
Harald Nielsen was the younger brother of Johanne, Jensen's third wife and although he
originally wished to be a painter he was soon drawn into Jensen's company. He started out
in 1909 as a chasers apprentice, but progressed to be director of the school of apprentices
before becoming artistic director of the company . He remained in this role until 1962. Neilsen
designed many pieces of jewellery including the leaf and bud necklace and bracelet no 96.
The most famous of Neilsen designs is the grape brooch no 217B worn as a pendant. During
the 1920's the designs of Harald Neilsen marked a transition in style at the company from the
organic naturalistic forms of Georg Jensen to a more streamlined style. After Georg Jensen's
death in 1935 Neilsen recruited talented young silversmiths training them according to the
Jensen silver smithy standards in order to ensure the continuing quality output of the firm.
His most famous recruit was probably Henning Koppel.



Harald Neilsen moonlight Harald Neilsen silver tulip Harald Neilsen tulip earrings
grapes brooch for Jensen necklace no 66 for Jensen for Jensen
SIGVARD BERNADOTTE
Sigvard Bernadotte's work had clean modern sophisticated lines and this greatly influenced a
new style direction for the Jensen firm. Her work had an unadorned industrial look, a clear
change in direction from Georg Jensen's earlier work. Functionalism is a term often used to
describe Bernadotte's jewellery forms. Some of her designs remained in production for many
years including cuff links no 67, produced in silver and gold , and brooch no 301 , a simple
wreath like design.
Brooch no 301 , Sigvard Heavy link bracelet Sigvard Sigvard Bernadotte silver
Bernadotte for Jensen Bernadotte for Jensen cufflinks no 67



ARNO MALINOWSKI
Arno Malinowski was very successful as a silver designer , ceramist, and sculptor. He studied in
Copenhagen at the Royal Danish Academy of Fine Arts School of Sculpture from 1919 to 1922 .
He worked for the Georg Jensen firm from 1936 to 1944 and again from 1949 to 1965 creating
designs for hollowware and jewellery. His jewellery often include detailed designs of animals such
as the kneeling deer no 256, two butterflies no 283, and dolphin no 251. He became well know for
his design of the Royal emblem Kongemaeket. This was designed for King Christian the X of Denmark
and issued by the Georg Jensen fIrm to celebrate the King's birthday. The design was made into many
commemorative pieces including brooches, cufflinks, matchbox holders and letter openers. The Jensen
firm sold 1.3 million pieces of this jewellery. The Danish people were wearing the Christian X pin as a
gesture of resistance to the German occupation as well as a sign of affection and respect for the King.



Georg Jensen - kneeling deer brooch, silver butterfly pendant, and dolphins brooch by Malinowski

HENNING KOPPEL
Henning Koppel was 27 when he joined the Georg Jensen firm. He had studied drawing and sculpture
at the Kunstakademiet (Royal Danish Academy of Fine Arts) and the Academie Rancon in Paris. His
silverwork was abstract and sculptural from the outset. The sculptural rounded edges of the free form
jewellery with spaces instead of jewels was the best of modern design of the time. His designs were
very tactile and he used enamel instead of jewels. An example of this is necklaces 88B with matching
bracelet designed by Koppel in 1947. Koppel's work attracted attention and made Georg Jensen one
of the leaders of Scandinavian modern design. Koppel won many prizes and awards including gold
medals at the Milan Trennale, and the Lunning Prize in 1953, amongst others.



Henning Koppel bracelet 88B Henning Koppel Necklace 190 Hennning Koppel 130 B silver
for Georg Jensen for Georg Jensen chrysoprase silver bracelet

VIVIANNA TORUN-HUBLOW
Vivianna Torun Hublow started work with the Georg Jensen company in 1967. She made jewellery
creating sculptural , simple spiral forms. She is well known for necklaces that wind around the body and
neck using rutilated quartz and rock crystals as jewels. Many of her prize winning designs conjured up
images of the beach.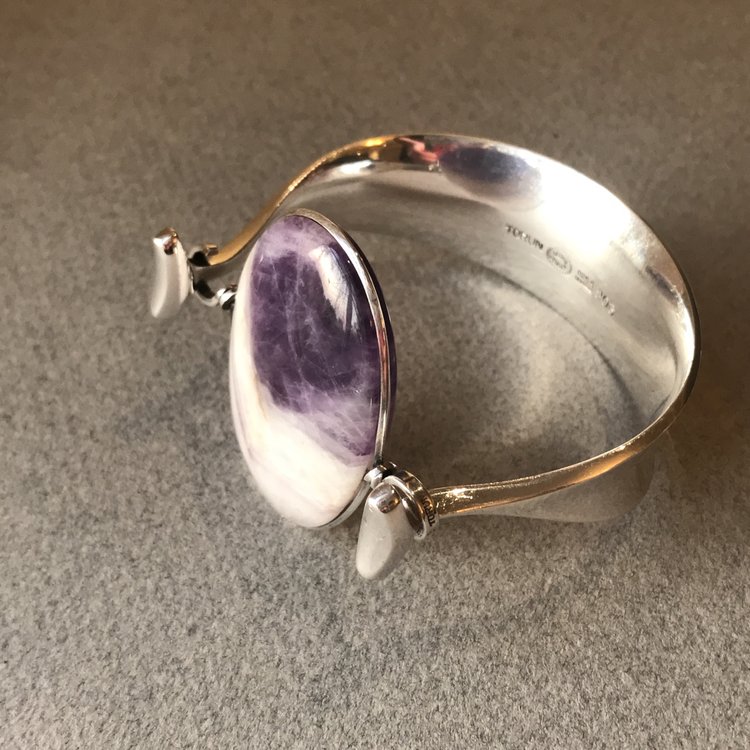 Torun Hublow multi stone pendant , amethyst bracelet , and Torun Hublow "drops" necklace,
all for Georg Jensen
JENSEN ANNIVERSARY PENDANTS
Jensen anniversary pendant have been made each year since 1988. They are new adaptations
of early company designs. For admirers of Jensen's work it is interesting to see the manner in which
the firm has combined old motifs, stone, and elements to create new versions of old designs. Each
of the limited edition anniversary pendants is impressed with the year it was released and the Jensen
company mark.

Related Articles : The Ilustrated Guide to Norwegian Silver Jewellery Design
The Ultimate Guide to Danish Silver Jewellery Designers