Interested in Norwegian silver jewellery? Check out our
illustrated guide to the top jewellery designers from Norway

1) DAVID- ANDERSEN
The David Andersen company is a fourth generation family owned business.
David Andersen (1843 -1901) was the son of a Norwegian tenant farmer.
At 19 he became an apprentice to a Silversmith in Oslo where he studied enamelling
technique. These were incorporated into designs made for English firms in London.
During 1876, Andersen opened his own goldsmith workshop in Christiania (Oslo.) He
became one of Norway's most renowned and celebrated silversmiths. In 1899 his firm
had 121 employees, 29 of which were women.
By the time of his death in 1901 his Oslo
workshop was producing flatware, holloware, and jewellery which was exhibited at
International Expos in Europe.

Many fine jewellery designers
have worked for the company producing beautiful silver and
enamel jewellery as well as modernist silver jewellery with stones . Gustav Gaudernack
(1865 - 1914) ,was responsible
for the progress of Norwegian enamelling techniques. He
produced beautiful plique a jour work which filtered the light like very small stained glass
windows. Guilloche enamel, (first used in 18th century France) was somewhat hardier and
became the preferred enamelling technique in Norway. A wavy ground was overlaid with
layers of transparent enamel in clear blues, reds, and aqua.This technique has been used
for objects and jewellery right up till the present day.
David Andersen green Marianne Berg for David Andersen
enamel leaves necklace Andersen silver pendant enamel fish brooch
Since the 1920s many fine contemporary designers have worked for the David Andersen firm.
including the modernist designer Harry Sorby from 1929 to 1970. He produced jewellery with
inexpensive stones in elegant modernist settings. Bjorn Sigurd Ostern was employed from 1961
to 1985 and designed some very original pieces in the 60's inlcuding his 1966 graceful harp
pendant . This had delicate ribs of silver over aqua enamel. Marianne Berg who predominantly
worked with geometric shapes was employed as a designer at the firm from 1964 to 2002. Her
silver and enamel troll and knipling range was produced for David Andersen in the sixties.
These original necklaces, earrings, and pins were sold at reasonable prices, for around 30 to
40 pounds.


David Andersen used the 830 S silver mark alone until 1939, when the scales mark was added.
From 1940, the 830S mark was replaced with the 925S mark in conjunction with the scales stamp.
2) EINER MODAHL
Einer Modahl (born in 1889), was a Norwegian silversmith who became known for his
beautiful silver and enamel jewellery.
He undertook a silversmiths apprenticeship with
Marius Hammer in Bergen, where he was was educated in silver filigree work. He then
spent some time working for goldsmith Clemet Berg in Oslo, before opening hs own
workshop in 1920. He created a range of silver and enamel products under his own
name Einer Modahl. In 1937 the workshop became a limited company with Odd Frisch
as a shareholder. The company continued after his death in 1951, before eventually
closing in 1987.


L to R: Einer Modhal guilloche enamel butterfly brooch, blue enamel modernist
circle brooch, and modernist blue enamel necklace and earrings set

3) IVAR T HOLTH
The Ivar T Holth silversmithy was first registered in Oslo, Norway in 1943. They produced
an extensive amount of jewellery often using guilloche enamel . Much of the jewellery was
exported overseas. The company was managed by Per Holth (sometimes spelled Holt)
from the late seventies until 2007. The makers mark used on the jewellery was an "H" within
a circle with 830S NORWAY, or 925S STERLING.



Ivar Holth sculptural blue Ivar Holth silver Ivar Holth white enamel
enamel pin modernist circles pendant leaves necklace


4) ASTRI HOLTHE

Astri Holthe (1917-1998) was a Norwegian gold and silversmith. She was the daughter
of watchmaker and jeweller Emil Ager-Wick. From an early age she enjoyed designing
jewellery. She openened her own business in 1943 in Barbu (Norway). Along with her
husband she owned the factory A. Holthe A/S. The factory produced candlesticks, cups,
plates, vases and jewellery . Over time her collection comprised around 12,000 designs
which took inspiration from the jewellery and tin tradition of Norway. The company was
located in the Barbu valley, Norway, close to the town of Arendal. The Astri Holthe Makers
mark is a H within a surround and 925 S.


L to R :

Astri Holthe modernist silver necklace

,

silver and pearl brooch and
brutalist silver ring

5) ASKEL HOLMSEN
Aksel Holmsen was a Norwegian jewellery maker. He trained in filigree work with David
Andersen during 1889-92 . He went on to open his own silversmith workshop in 1904 in
Oslo which became know for its modernist design esthetic. His son Ivar began working
at the company in 1942, eventually taking over the firm in 1950. They produced traditional
filigree work, as well as enamel floral brooches in the Fifties and plain silver modernist
abstract jewellery in the sixties. The firm used a crossed bench tool stamp before changing
to the "A.H.S" stamp for Askel Holmsen Salg.The company eventually closed in 1971.



L to R: Askel Holmsen enamel modenist necklace, enamel and pearl brooch,
and red enamel and silver bracelt
6) MARIUS HAMMER
Marius Hammer was born in 1847 in the town of Bergen, in Norway. He was the son of Lauritz
Hammer, a master goldsmith and he was the third generation in a family of craftsmen. He
undertook training in the family workshop, however his aspirations were always greater than
running a small workshop like his grandfather and father had done. He studied in Berlin and
Hamburg in Germany. During this time he learnt about new production methods and techniques .
He put this into practice after his return to Bergen and the workshop soon expanded to become
the largest in Bergen.

As well as jewellery the business made various goods including, cutlery and tableware. At the
start of the 1880's Hammer produced a large volume of high end enamel and filigree souvenirs. He
opened a group of shops in popular tourist destinations in Norway. In addition he also exported
products to European businesses. The main focus of the business was a glass mosaic filigree
in rainbow colours, made from a collection of thin, gilt threads. Viking design items of jewellery
and teaspoons were made in large volume. At the height of the firms production, around 130 people
were employed. Marius Hammer was one of the foremost silversmiths in Norway. The firm became
famous around the world for its enamel work. Art Nouveau themes were reflected with floral layered
shapes and bright colours. Hammer's work is identified by two marks, the standard M H' and also
an inverted hammer above an upper case 'M.'
During World War 1, times were tight and the market for luxury production was very limited. The firm
became a limited company in 1915 with Torolf (the eldest son) as director. After Torolf's death in 1920,
the firm took a downward turn. Neither Marius (now elderly ) or the youngest son Max could return the
business to its previous glory. Marius Hammer died in 1927, and the firm went bankrupt in 1930.
Marius Hammer's work tends to be refined and delicate The combination of enamel, filigree and silver
gilt, is typical of Hammer. He also produced beautifully made vessels of silver and plique–jour enamel.
Marius Hammer jewellery is much sought after by collectors due to its fine craftsmanship and delicate
beauty.



L to R: Marius Hammer silver gilt brooch, modernist purple enamel pansy brooch,
and silver gilt festoon necklace

7) GRETE PRYTZ (KITTELSEN)
Grete Prytz designed unusual free form silver and enamel jewellery. The jewellery
was generally quite dramatic and larger than her contemporaries. Her design ideas
were supported by the J. Tostrup workshop who executed her designs from 1945.
She was educated in France, and also at the Art Institute in Chicago . She
was the winner of the Lunning Prize in 1952, which became the first of many prizes
and gold medals. During the 1950's Paolo Venini made hand coloured Murano glass
elements. Prytz incorporated these in silver necklaces in Oslo. She married the architect
Arne Korsmo, and then Kittelsen, with these names being added to her signature. Her
designs were often inspired by American art, using simple shapes and clear, plain colours.
She also made inexpensive jewellery from silver and vitreous enamel. She died in Olso
in 2010 at the age of 93.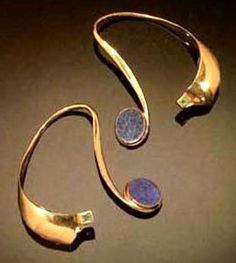 L to R: Grete Prytz Kittlesen green enamel articulated necklace, modernist brooch
for Tostrup and silver gilt modernist earrings
8) STUDIO ELSE AND PAUL
Else Berntsen Hughes (born 1938) and Paul Hughes (born 1934) co founded their
workshop in Hadelund, Norway in 1959. It was named "Studio Else and Paul." They
had met at the Central School of Arts and Crafts in London. They were part of the early
1960's Norwegian Studio Silver Movement . They wanted to break away from the typical
Scandinavian design ethos of the time and were interested in three dimensional shapes.
They created large , expressive and complex sculptural type jewellery using the lost wax
technique of casting. The jewellery was often coated with various surface treatments to show
contrast. In the early days production was limited , however, this changed after they took over
the wholesaler and goldsmith company Hroar Prydz in Oslo. They developed several jewellery
collections. These were made of gold, gold pated silver, and oxidised silver. In 1962 the
workshop moved to Oslo.Then in 1967 it moved to Asker, which was also in the Oslo vicinity.
In 1979 they launched a bronze jewellery collection which was exported to several countries
including the United States and Japan. After Paul's death in 1981. Else focused on the creation
of full scale sculpture.



L to R: Else and Paul Studio large sculptural silver necklace, sunburst silver brooch,
and sculptural bronze pendant.
9) ALF ERIKSEN
Sigurd Alf Eriksen was a Norwegian painter and metalwork designer. He studied at Pforzheim
and Hanau in Germany, after which he worked at various studios in Paris, Rome, and Vienna.
After this he was employed at the J.Tostrop workshop in Norway. The workshop was known
for its beautiful 19th century cloisonne , champleve, and plique a jour objects and jewellery.
Eriksen was the head of the enamelling workshop from 1926 to 1946, after which he left to
open his own workshop. His speciality was painted and relief enamelled pins and buckles
drawing inspiration from Nordic myths and nature. He was the winner of the Prix d'Honneur
at the Milan Triennale in 1954.
10) TONE VIGELAND
Tone Vigeland was a student at the National College of Art, Crafts, and Design in Oslo in 1955,
and at the Technical College in 1957. From the start Tone had a fresh original approach to design.
She added a foil backing to her enamel pieces to give a shimmer effect. She produced "atomic burst"
hair ornaments and pendants with modified geometric themes , as well as graceful moonstone
pendant earrings. She exhibited widely in travelling exhibitions of Norwegian Arts and Crafts in Europe
and the USA, and by 1975 she was teaching at the National College of Art. She realised that the small
workshops would need to become larger factories in order to keep prices lower, but that the pressure
of middlemen with their commercial concerns was at odds with the aims of the artistic crafts person.
Tone Vigeland conformed only to her own high standards of craftsmanship. Tone worked mostly in
oxidised silver in smokey grey creating dramatic necklaces and wide cuff bracelets.. In the Eighties
she worked with drak iron or steel combined with dramatic gold touches. She produces a dramatic
chainmail snakelike belt, as well as a feathered steel neckpiece amongst other original pieces.
At the start of 1994 Tone's slim sterling silver bangles worn in sets of 34 or 60 were photographed
on models in fashion magazines. Her work is very sought after by Japanese collectors and can be
seen in the National Museum of Modern Art in Tokyo as well as the major art museums in New York,
London, Stockholm, and Oslo.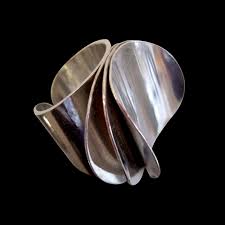 L to R: Tone Vigelund modernist necklace of steel feathers, abstract silver
modernist ring and abstract silver sun brooch