Scandinavian Jewellery, Pendants, Rings, and Bracelets influenced by Early Nordic Traditions
Although Scandinavia has produced distinctive jewellery since Viking times, the area's jewellery industry didn't come into its own until the late part of the 19th century. Before this time, jewellery from the three Scandinavian countries—Sweden Norway, and Denmark was mainly influenced by early Nordic traditions. Embellished pendants,rings and bracelets featured complex knotted designs and symbolic signs and animals . These pieces emphasized their metal materials, in particular silver, with limited pearl and gemstone decoration.
Top left image: David Andersen enamel butterfly brooch.

Scandinavian Enamelled Metal Jewellery Designs
Towards the turn of the 20th century, Scandinavian jewellery artists looked to indigenous craft-type arts to inform their designs. Norway distinguished itself in the art of enamelled metal and companies like Marius Hammer, J. Tostrup, and David-Andersen adapted techniques such as plique-à-jour for jewellery production. Most of these enamelled designs reflected the Art Nouveau trends of the time featuring layered floral shapes and bright colours.
Danish Jewellery and the Arts and Crafts Design Movement

In Denmark, the Arts and Crafts design movement was commonly known as skønvirke, or "beautiful work," and the makers of this jewelley relied heavily on a type of sculptural quality achieved through chasing or repoussage. Skønvirke items were usually made in silver, sometimes set with precious stones, and relied on birds or flower motifs similar to the concurrent Art Nouveau style.
Evald Nielsen "Skonvirke" Gemstone Jewellery
One Danish designer Evald Nielsen made beautiful skønvirke pieces with gemstones set into floral-shaped bezel settings, creating the illusion that the jewels were emerging like flower buds. Many main Danish manufacturers such as Hans Hansen, and Berhard Hertz commissioned their own designs from artists like Nielsen, using skilled silversmiths to reproduce the original jewellery pieces on a larger scale.

Evald Nielson silver and coral brooch Georg Jensen silver ring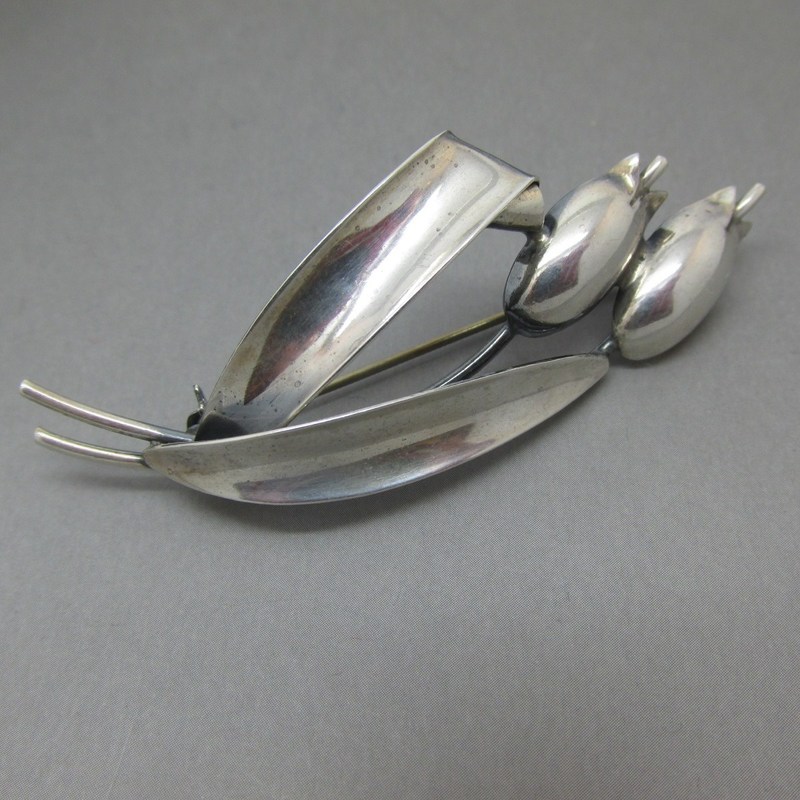 Carl Ove Frydensberg Brooch from Modern Vintage Style, brooches collection

Georg Jensen, and the influence of the Arts and Crafts Style
Possibly the most well known Danish jewellery designer is Georg Jensen, who opened his own studio in 1904 in Copenhagen after having working for silversmith Mogens Ballin. Jensen was majorly influenced by the natural forms of the Arts and Crafts movement, and his designs ypically featured graceful silver shapes with minimal ornamentation. Jensen employed other well-respected designers like Harald Nielsen, Gabrielson Pederson,Henning Koppel Sigvard Bernadotte, Nanna and Jørgen Ditzel, and Arno Malinowski to create designs for his company

Arno Malinowski and Kalevala Koru Jewellery
The problem of material shortages during the world wars meant that Scandinavian designers had to experiment with other materials such as ceramics, iron and bronze, glass, reserving silver and gold for settings or inlays. A style pioneered by Arno Malinowski for Jensen's studio was jernsølv or "iron silver", which involved silver inlay designs set on a patinated iron type background inspired by Japanese art. In Finland , Kalevala Koru made replications of jewellery designs found in ancient tombs, and the combination of nationalist pride and ornamental tradition made the company an instant success. Kalevala Koru's imitation of Iron Age creations also reignited a Scandinavian interest in bronze jewellery.
As the more ornate styling of the pre-war period waned, enamelled silver was adapted for more modern purposes by Norwegian designers such as Grete Prytz Kitt and Bjørn Sigurd Østern.

Related reading: Costume Jewellery - Overview