Weiss Costume Jewellery
The Weiss costume jewellery company was founded by Albert Weiss in 1942.Before this Albert gained valuable experience as a designer for the company Coro during the 1930's. Weiss produced some of the most beautiful, if somewhat underrated rhinestone costume jewellery of the post World War 2 period.
Figural an Floral Earrings and Brooches
Weiss were know for their stunning floral and figural earrings and brooches, although the firm also made various styles of necklaces and bracelets .Although Weiss would never reach the heights of the larger Coro brand, they flourished in the 1950's and 1960's, so much so that the company had to contract with another firm Hollycraft in order to complete its orders. When Albert Weiss retired in the 1960's his son took over the daily running of the company. Demand for costume jewellery declined in the late 1960's and the Weiss firm eventually stopped trading in 1971.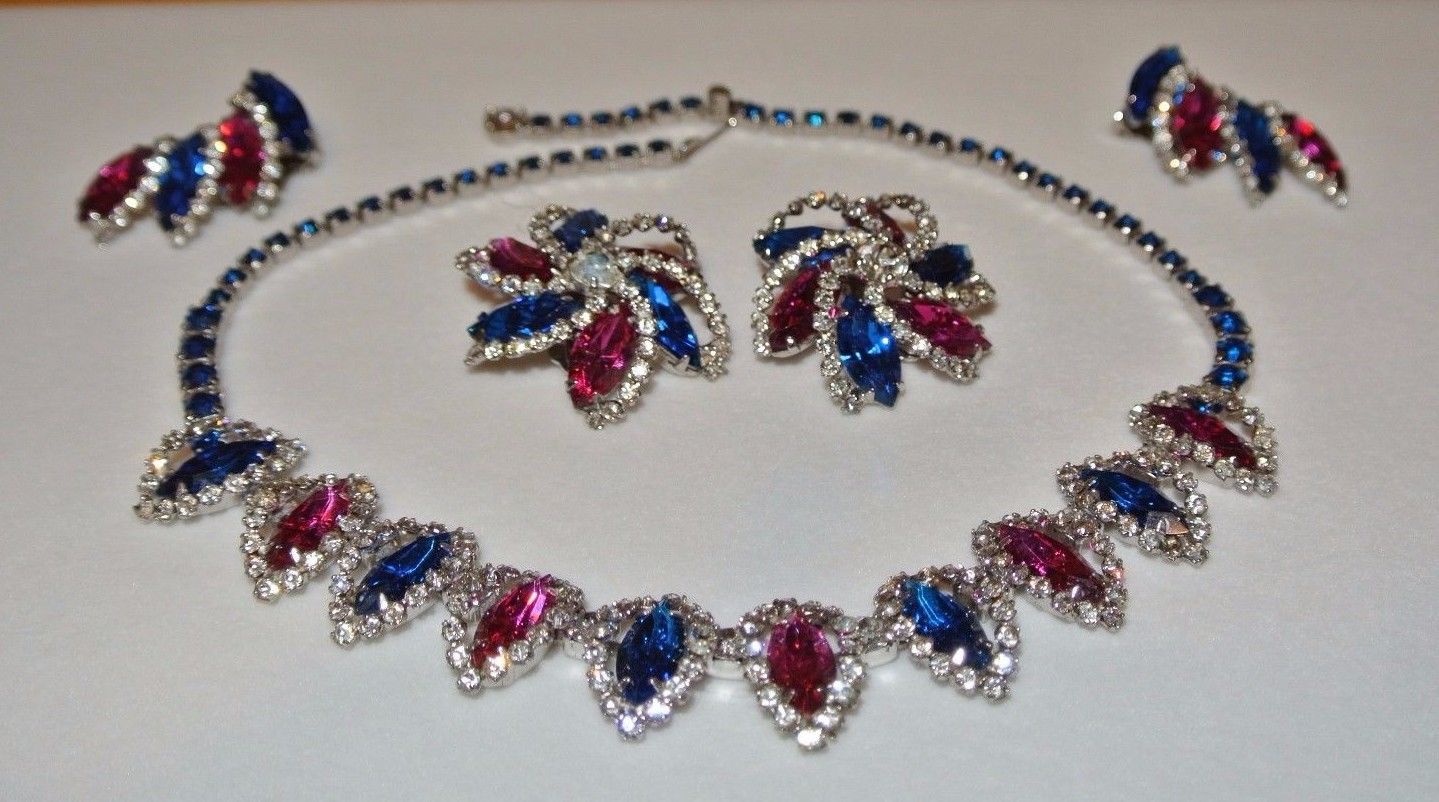 Above : Weiss Vintage rhinestone crystal necklace and Weiss Christmas Tree Brooch
Crystals, Quality Components, Traditional Forms and Art Deco Designs
Weiss is possibly best known for its use of beautiful crystal rhinestones. The firm was one of the first to use Swarovski's new aurora borealis crystals, which were created in conjunction with Dior in the 1950s. They only used components of exceptional quality, and these were usually prong set to maximise their clarity and colour. The rhinestones were set in fairly traditional forms inlcluding floral, figural, foliate and fruit pieces as well as a range of Art - Deco style geometric designs. Settings were of high quality gold and silver plated metals and alloys, and japanning became another design feature in the 1960's.
Weiss Maltese Crosses
Weiss collectors favour the company's work in enamel as well as its japanned pieces of jewellery. Dark colour japanned pins in the form of Maltese crosses were often studded with small "black diamond" beads, however japanned metal also served as a counterpoint to clusters of crystal rhinestones in ruby red, royal blue and other strong colours.
Rhinestone Studded Christmas Tree Pins
Another collectable item from the 1950's was the Christmas Tree pin, which was heavily studded in Weiss's characteristic rhinestones. Other costume jewellery designers emulated Weiss's christmas tree pins.
Highly Collectable Rhinestone Butterflies, Insects and Flower Pin

s
The figural forms from the 1950's , particularly butterflies, insects, and single flower pins studded with rhinestones are highly collectable. The fashionable aurora borealis rhinestone was favoured by Weiss and his team in the mid 1950's . Weiss's presentation was quite innovative. Stones were sometimes inverted to reveal the more intensly iridenscent effect of the underside.
Weiss Smoky Crystal Quartz Rhinestone "Black Diamonds"
In the mid 1950's Weiss developed a simulation of smoky quartz called "black diamonds". Set in
typical Weiss designs, the "black diamonds" were highly realistic and beautiful, and are highly prized
by collectors today.